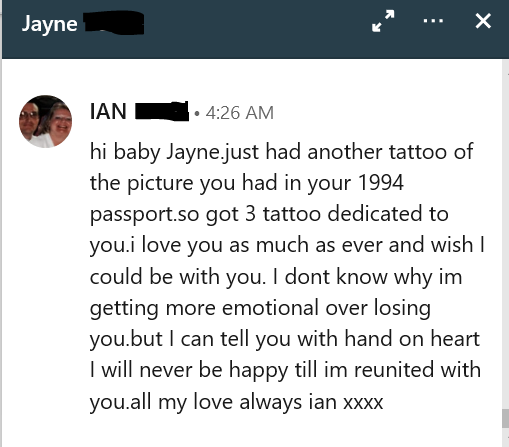 Hi Ian Totally understand you I am feeling the same like yourself just don't want to be here . The things I use to enjoy seem pointless anymore just not interested in them you say you've had another Tattoo done that's fine if it gives you that little bit of comfort from the loss of your Jayne. I can see you were a devoted couple and a special loving relationship . As my Penny

and myself did . Like Jayne and yourself did everything together from a very young age . This is why it's so hard for both of us . Today for me has been totally horrible. Our wives both been part of our lives for so long that we forget what it was like before they Special sparkle and sunshine into our lives and then to be taken from us before their time is more than

heartbreaking you just feel empty and lost . Please try and take my friend . Graham.
thank you Graham,
nothing can ever prepare us for the devastation we go through when we lose our soul mate.
my goal now,which is the only reason im wanting carry on,is to do things in Jaynes name and memory for charity.sadly I donated to the hospice and after my donation my request to publish Jaynes name was with held because we was not married and it could supposedly upset the family hence they would need their permission.totally peed me off.as ive pointed out the family are not nice people,well they have been horrible to me.even the donation would of been listed as being from Jaynes 4 lady work colleagues and 2 of her friends whove help me a little over the days weeks months since I lost Jayne.
still going to do the sky dive but need lost a bit of weight,been told I should be ok going swimming now,was waiting till my tattoo healed.so hopefully once I reach the target weight I will book the date for the sky dive.
Hi Ian. Jayne would be so proud of
you. Your willpower to do anything in Remembering your Jaynes life is amazing keep it up my friend. Had to go to Funeral directors to have Penny's

Plaque changed on Penny's

Ashe's Box from died to fell asleep. Regards Graham
thank you Graham ,id of done the same if responsible for Jaynes funeral,passed or fell asleep is better in my eyes anyways.]
regards
ian