Time for a bit of thanks to our doggie companions.
Penny had two wonderful little dogs, and they doted on each other. until 5 months ago when she passed away.
I came home from the hospital, and there they were, waiting to greet me. They had a quick check to see if Penny was home with me, then realising she wasn't, they started living in the moment (as they do - a valuable lesson!!!) and jumped all over me with delight. Then immediately started helping me with my grief and tears.
So here they are – the two poochon sisters:—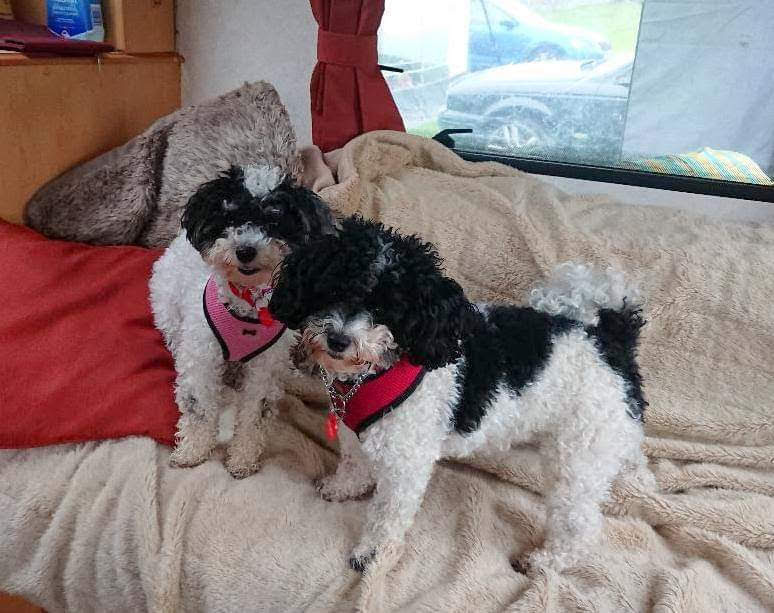 Zola on the left, Rosie on the right.
How have they helped?
They are always there, being someone to talk to, alleviating any loneliness, wanting fuss, wanting fun, wanting to take me into the countryside for a walk, wanting feeding ,., sleeping on my bed, etc etc. One major benefit is that when we are out and about, especially Rosie loves approaching strangers, demanding pats, and almost on every occasion this develops into a nice chat. Essentially they try to fill a gaping void in my life.
Whenever I shed a few tears, the little scruffier one, Zola, hurtles onto my knee, stares into my eyes and licks my tears, almost as if she's saying "It'll be alright, Dad, I'm here!!"
What they don't do, is to overthink, regret, mope. They live in the moment, not the past. That's a great lesson they teach me.
If you've got a dog which is a great comfort to you, why not celebrate them, and post a photo on here. If you've not got one, consider getting one or two.