I have just watched a wonderful programme on BBC1, about VE celebrations, our wonderful Queen spoke very movingly too.
Maybe the reason I finished up in tears was the fact that I can remember VE day so well.
I knew on that day that I would see my dad again. It is 31 years tomorrow since he died and I still miss him.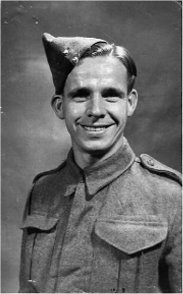 Dad in his square bashing kit, this was before he was posted into the Royal Artillary
Regiment.