Just wondering if I am in the right place
Dear @Lindylou1, I am so sorry to hear of the horrrific manner in which your child was taken from you. @linzy1980 sadly also had her child killed, so you might want to talk to her. Please take care.
I am so sorry for your loss & to lose your child in such a terrible way. I lost my son in June suddenly, I am so devastated and not coping very well at the moment. I'm crying all the time & feel so lost. Sending love and strength xx
Hi Rachel,
Sorry for your loss ,
James was 27
He was stabbed in the heart
We were on 24 hours in police custody
Not becouse we wanted to be
It was to stop them from showing him dead .
The police had them following them as the call went out . So it's all so public
It's been 3 years now and it dont get no easier
In fact it just runs through your brain all the time although work is a bit of a distraction .
This has got to be the worst pain anyone can go through
U expect your parents to get old etc
But this …
And to carry on …
I'm not scared of anyone or anything now
It's made me hard .
I hope I'm still a nice person
I'm not sure how to use this site
But feel free to message me .
By the way we got justice
If you can call it that .
This is a life sentence xxx
Lindy I'm so sorry. I remember the story. So dreadfully sad. I've worked with kids in behaviour units - carrying knives. It always ends in tragedy if only that stupid idiot although idiot is understatement had no knife. It would have been just a punch up. The papers reported the same. Such senseless tragedies from knife crimes. And one of the reasons I moved my children away from where I lived. When a 14 year old on my street was killed with a knife. I can't but I also can imagine your pain. From one mother to another. He is still your baby. You will hold him again one day I believe.
I'm sure there is a group set up from parents of children who died from victims of knife crimes. Maybe @Priscilla can help you with this.
Thanks
The reports news were all wrong too
James was not a dealer
Like so many of the young he did a bit of cocaine on weekends , I'm not justifying this
He was 27 how could I control his life ?
He bought some and from what I gather sold a bit to friends so his bit was free …
I dunno , but he never carried a blade he would rather have a argument maybe a fist fight and over .
Does anyone deserve to die ?
He was enjoying his life due to his breakup with his ex up north .
He has s son now 11
What a waste of a life
I run through this shit all the time
We were from London
I brought them here in Cambridge for a better life
Ha
Funny , if I hadn't maybe he would still be here .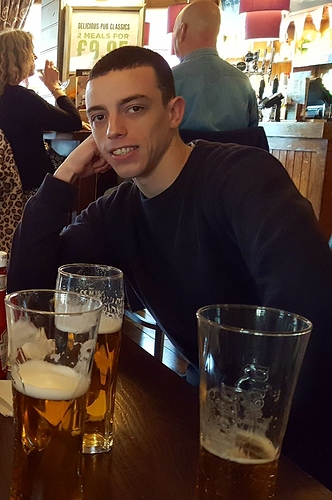 Lindy most kids do cocaine from all walks of life. It doesn't mean you deserve to die. I didn't for one minute think less of your son for that. When I saw and read the article. I have come from a suburb of London where all my friends did it. It was part of life especially for my age where we were 80/ 90's kids. But like your son. Never ever Carried a knife. That's a different act altogether. Of course you can't control what your son did. Just like I won't be able to when my son gets to that age Drugs are rife. But. The issue here is the carrying of a knife. Not the drugs. That's irrelevant. That's something entirely different. And the scum that used it deserves his sentence.
That's so sad you moved away for a better life. You only did your best like we all do. I hope you can get joy from your grandson now.
Thanks Jooles
Unfortunately the press were more interested in drugs rather than other things
Comments were not great either saying they had no sympathy for James
All turned into a circus really
And who needs these peoples sympathy?
The press said a lot of things that were untrue too , like they were childhood friends and they went to the same school . Utter rubbish.
Anyway just thought if anyone else is going through this I could help
Believe me I know now what I never knew then when it comes to the system.
Thanks again
Linda
So so tragic, I'm so very sad & sorry for you & all of us

Hi so sorry he was your son and you love him as we love our children it's just the worst thing to happen to a parent sending love xx