I just wanted to create a space for myself, and others if they feel like it, to post photos, random memories of their loved one. I'm really really missing my Dad, everyday seems to get worse just now. Daily life is moving on, yet inside my head stays the same. Just thoughts, memories, images in my head that I wanted a place to post for myself to look back on.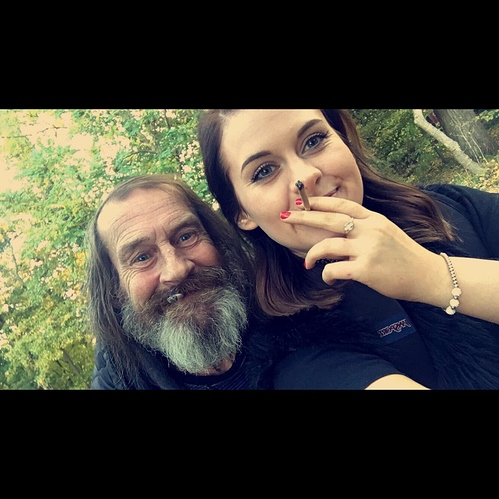 Here's my first one, this really sums up us and how our relationship was. We laughed ALOT! This photo was taken on our first and only solo father daughter holiday to Amsterdam! It was one of Dads dreams to visit his favourite place so in October 2016, I booked the two of us a trip over to stay on a house boat! Dads health was really bad then, and I wanted to make sure he'd have a good time even if he couldn't leave where we were staying. What better place to be stuck on than your own boat in Amsterdam with your daughter! It was such a good trip but it was so hard to see him struggle. The first time I've ever had to get Dad a wheelchair because the airport was too big, he couldn't make it walking he was so breathless

One night we got lost and it was bloody freezing! Dad was so cold only in a wee jacket so I took off all my outer layers to give to him. Even offered him a coxy cosie but he managed very slowly himself. I'm still glad we got to go though. I'll never forget it.
It was hard to stay sad around Dad. I remember not long before he passed, I was so stressed with uni. Studying counselling was really emotionally difficult and I was starting to bring up a lot of personal struggles in class. I'd always walk up to my Dads after class, and one week I walked up in floods of tears. I'd been speaking a lot about how much I'd had to face in my small 26 years and it all just hit me in the face. I got to Dads, feeling very quiet. He asked what was wrong. In a much calmer way, feeling a lot less stressed I spoke to him about how hard life was getting, that I was struggling with the load of work, uni, seeing him and asked if he'd take advantage of his ASDA and Tesco apps I'd set him up on. Just one less Worry for me, that he'd always have food in his fridge. I still feel so lost not getting to see my Dad anymore. It's all hitting that im never gonna get to see him again, never gonna get to make another cup of tea, fill his teabag and sugar pots up for him, put food in his fridge, start a coal fire, turn his tv switch on so he wouldn't need to bend too much, give him a hug, see his smile, see him tap his feet to a good tune.
I try not to focus on this too much but some days are hard. I know people will understand.
Any photos or memories, please feel free and safe to share.
X