Hi Katherine
Your poor mum must feel awkward sharing your home too. It's a massive adjustment for both of you. My mum talks a lot always initiates the conversation. I don't say much tbh always feel the build up of tears even before I walk in the door. Dad was always out cleaning his car or doing something in the garden.
I'm laughing at you burning the carpet you will be grateful that's going. It's the kinda thing I do all the time. Always in a rush before I run out of patience for the job.
One of my male friends is coming during the week
(?what day he's free) to help me break down these bloody pallets and build my wee ledge. I have completed painting my fence from back door all the way round to gate at front, may need touched up here n there and big drips all over the slabs at side of property

will deal with the aftermath later. Scrubbed decking rails with bleach so they will be painted tomorrow if weather stays dry. Had a few breakdowns coz I know dad would have done all this for me and makes me miss him so much more.
Sorry to hear the photos upset you. I still can't get my head around how my dad got from laying slabs to laying in a mortuary in 11 weeks. I find it so difficult to comprehend. He lost so much in such a short space of time no wonder he couldn't understand what was happening to him. Don't think I will ever get through a day without crying for him.
I have ordered a wee garden statue for mums bday said she doesn't want any gifts so it will be a bouquet & birthday cake from me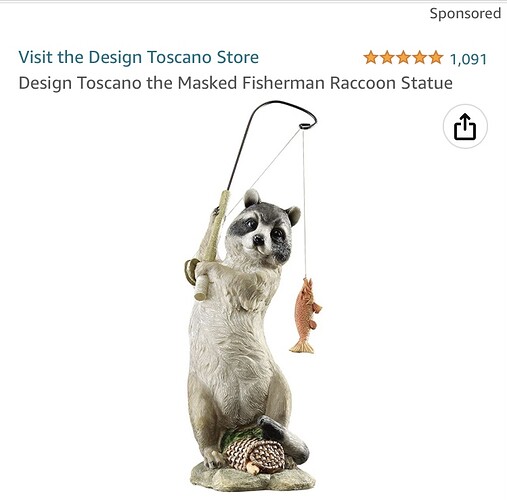 Thought it was cute. Have been looking for a stone fisherman but only ones I can find are creepy troll looking things or gnomes.
It will be nice to have your brother home. I guess you don't see him very often ? My brother only lives 5 miles away he was visiting mum yesterday so I took a day off (sounds terrible but true) mum said he arrived just after 5 and away again after a couple of hours

would be nice he him and his wife took her out for the day. I take her everywhere every other day, she always says she will get a bus or a taxi but couldn't allow her to do that. She's not got to walk any distance. On arrival at lunchtime she has again lifted all the rugs, shifted furniture and mopping living room, hall, kitchen floors. Then complaining of her ribs and back pain

I give up but managed not to shout at her today just helped her finish then made us lunch. She's wearing me down…
More doom n gloom for you Katherine


My apologies this is why I've no friends lol xxx
Sending love