Maybe this can help you? This is what I learned in the year since my soul mate passed
This site has been a life-saver for me, probably literally, since my darling Sharon passed away on 17th May last year. I'm posting this to maybe help others in their first year of losing their partner.
IN CONTEXT: my beloved Sharon is (was) my reason for living. We were together 42 years since our teens, inseparable and a single soul shared. She was diagnosed out of the blue with stage 4 pancreatic and liver cancer on 30th July 2019, and given 6-12 weeks to live – totally devastating. However my girl refused to accept this, and lasted 3 years having undertaken 40 horrific chemotherapy treatments, and the last 5 months immobile in a hospice since the local hospital (possibly trying to end her) gave her 3-4 days to live with total kidney failure on Christmas Eve 2021. I slept on a camp bed by her bed in the hospice, and never left her side for this 5 months.
SO WHAT I LEARNED:
Use this site, understand you are not alone. Learn from others who have lost a partner. Post back, support others.
Losing a partner is thousands of times worse than losing a parent. My Dad passed away a few months ago – and even though his wife hastened his end in order to get all his money (my inheritance) and quite literally danced around his grave and celebrated with champagne – compared to losing Sharon, it is insignificant.
The people who tell you they understand, don't. Unless they have lost a partner, they have no idea what life is like on our Planet Shit (Transported to a New Planet).
As a hard-core alpha male who would previously have disparaged counselling, that attitude is total b*******; take all the help you can get. And find a counsellor with whom you "click". It's OK to be vulnerable.
Read stuff. Understand Continuing Bonds, Dual Processing, understand what you are going through; physical and mental.
For me, antidepressants (vortioxetine) reduced physical anxiety symptoms, but has no other side effects to date. But not for everyone, so talk to the professionals.
Being diagnosed on my NHS record as "at risk of harm" i.e. suicide is a pain in the a*** from legal aspects, but enables you to get NHS help (even via the GP) easily.
Talk about it. Bore everyone. Talking is good.
I have been diagnosed with "complicated grief", PTSD and all the other labels and am being treated in the local NHS Mental Hospital which is a bit crazy to some "friends" who know I'm attending a Loony Bin as a Loony; but ignore what other people think, they don't live in your shoes.
Be positive, such as: "I was married to the most beautiful girl in the World who was way out of my league but loved me unconditionally, and other people who didn't have that were the unlucky ones"….and "it is better for me to try to cope with living without my darling girl, and continue to protect her, rather than her have to deal with the devastation of living without me".
You don't recover. You don't move on. But… you do learn to cope better. This is the big one.
Find a bereavement buddy or buddies; a few of us who lost our partners attend a weekly Zoom meeting, which allows us to talk to people on the same planet, who understand; this is incredibly helpful. I met one of the others for coffee a couple of week ago on my way back from seeing my son, and we talked for hours.
Sometimes, our partners choose to depart in a way that protects us, which although hard to swallow, shows how much they love us. For three nights in a row I held Sharon in my arms having been told she'd not see the dawn tomorrow, but then she went on the 4th day when I popped to the loo for 2 minutes – which the staff nurse said was common and Sharon would have done that to avoid me dealing with the shock her going cold or worse as I held her.
Watch "After Life", although I don't like Gervais, the program nails it. You are not alone.
Finally, "be kind to yourself"… and by this I now know this means: be selfish, ditch those that don't support you, eat chocolate when you want, duvet day when you need.
And for me, the poem I wrote for my darling Sharon's funeral (attached) sums it up.
I wish you all the very best who have lost a partner, and who now live in a World of shit where everything looks the same, but everything is different. Carpe Diem Quam Minimum Credula Postero……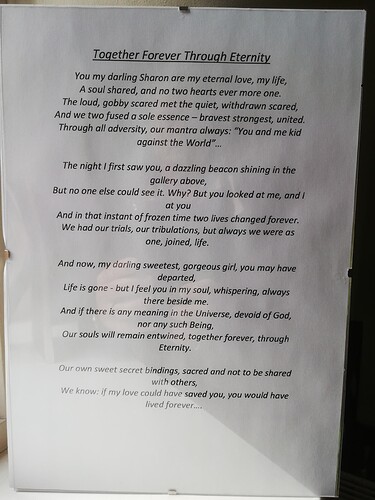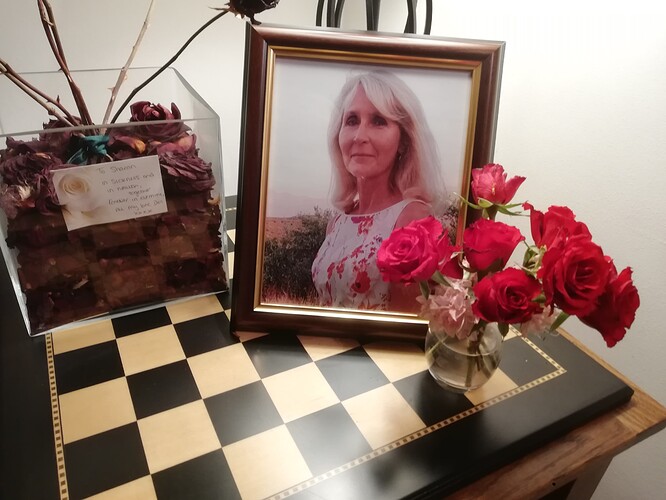 !
Processing: 20171231_221222 - Copy.jpg…